The Inside Story of How PT TBP Achieved ISO 45001 for OHS Management System
10 April 2023
Occupational Health and Safety (OHS) management system is essential for sustainable mining operations. Implementing a leading OHS management system will not only provide a guarantee of protection for workers, but also enhance productivity and competitiveness of the company.
PT Trimegah Bangun Persada (TBP), a Harita Group business unit engaged in nickel mining and downstream industries, recently received ISO 45001:2018 certificate from the world-class ISO inspection, verification and certification service provider, SGS.
Primus Priyanto as Head of Mine Technical PT TBP accompanied by Stefanus Bram Prasetyo Adi, Superintendent OHS & Training, said the ISO 45001: 2018 certificate is the first international standard in the world that sets requirements or guidelines for implementation of the OHS management system.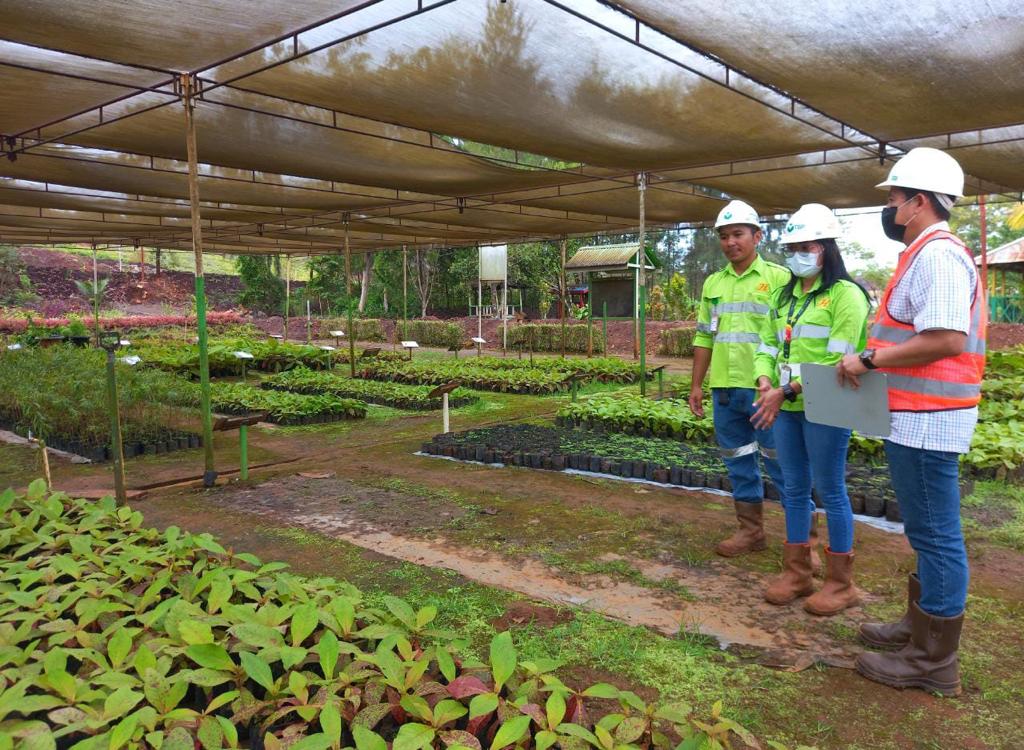 SGS Assessor conducts environmental assessment at PT TBP's nursery
PT TBP received the ISO certificate for implementing the OHS management system properly, by taking proportional actions in preventing work accidents and maintaining health in the workplace.
He further said that this certificate will raise the company's value and competitiveness to the public. A sustainable business will be considered when it is able to provide added value to related stakeholders by practicing Environmental, Social and Governance (ESG) principles.
"When people are looking to buy our products, they will find out whether our products ignore the safety of our employees and the environment or not. We answer that with the certificate. It is ISO standard that has been recognized internationally. And this will certainly add value to the company," stated Primus Priyanto, providing an illustration to explain the urgency of the ISO 45001:2018 certificate.
He continued, there is a complex and rigorous process behind the ISO certificate. The stages include preparation, assistance, then assessment of all aspects ranging from policy, organizational planning, implementation to management review.
"The most important thing about the ISO is documents and its documentation. The documents are available, documentation of its implementation is also provided. What is the procedure, how is its implementation in the field. Documents will be reviewed, field visitation will be conducted, and the last is the management review," said Stefanus, explaining the audit process.
He believes that this achievement is due to the commitment and cooperation of all parties in the company. This includes top management, employees and contractors.
"So, OSH concerns all operational aspects at the site, which includes cross-departments down to the contractors. As for us in the OSH and Training department as advisors, who help develop the SOP, while all parties are the implementers," Stefanus explained.
For example, to ride a vehicle in the site area, employees must be equipped with a SIMPER. There are procedures and requirements to be followed in order to obtain a Simper. In this case, he explained, the OHS team develops an operational system of procedures (SOP) to be carried out by employees to ensure safety at the work site.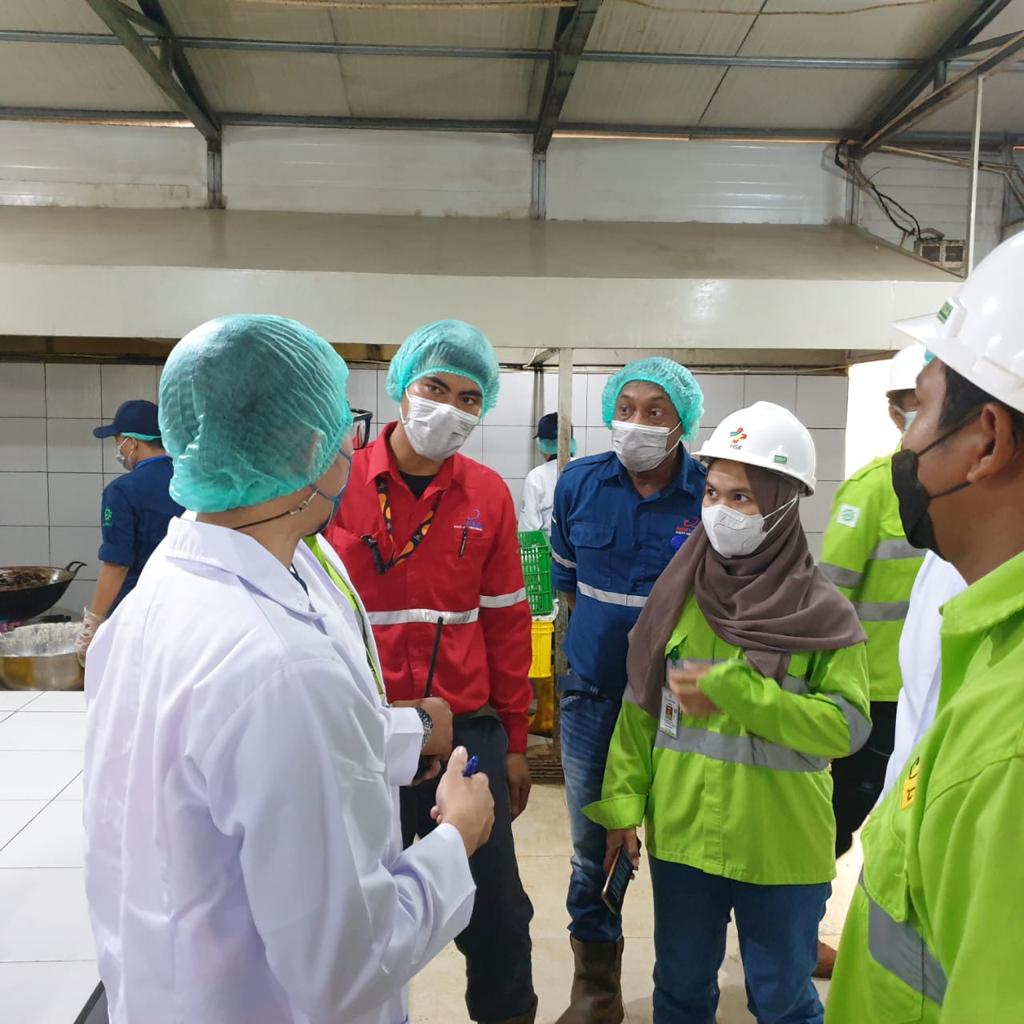 Occupational health assessment by SGS assessor in the food processing kitchen for employees
Primus further said that the OHS culture does not only apply to all employees but also to every visitor coming to the operational area.
As the company's commitment to achieve the zero fatality target, including reducing occupational injuries and diseases, he continues to socialize the importance of K3 culture to all employees, including conducting inspections and imposing sanctions for anyone who violates it.
"The ISO 45001: 2018 certificate we have obtained is a whip, so that the achievements we have made can be maintained, especially since all of this is for our collective interests," he concluded.
Maintaining Teamwork Cohesiveness
Ahead of the fasting month recently, an event titled "TBP Carnival Fun 2023" was held very lively in the Nirwana mess complex, where PT Trimegah Bangun Persada employees live at the Kawasi Site in Obi Island.
The event, which was held on the off week, was attended by at least 700 people consisting of PT TBP employees and also workers from a number of contractors on site. They were joined in 16 teams competing to showcase their creativity. Some wore costumes of puppet characters to those wearing superhero characters in movies.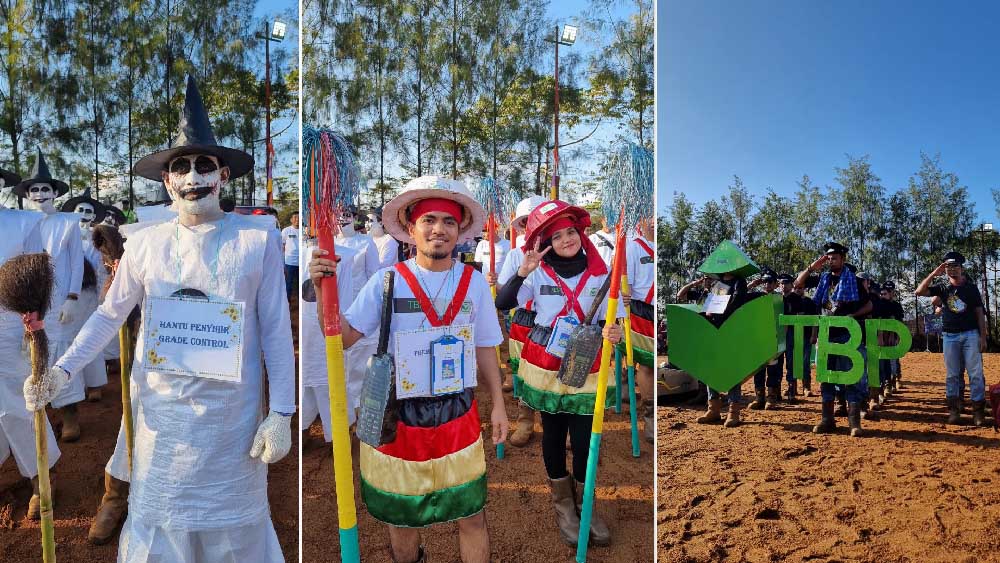 TBP Carnaval Fun 2023 participants show off their costume creativity

In addition to the carnival, there were also various games. Everything was assessed and recapitulated, and the Mine Plan Engineer (MPE) team came out as the first winner.
Indeed, the employees who were struggling with their work routines every day, that morning all seemed to be mingling in excitement.
Rudal Triawan, Mining Safety Superintendent, who was appointed as the coordinator of the joint committee said the TBP Fun 2023 Carnival was held to build togetherness among all employees and including contractor workers.
In addition, it is also a gratitude for the company's recent achievement in obtaining the ISO 45001: 2018 certificate. This achievement, said Rudal, was thanks to teamwork from across departments and even contractors.
"Let's keep this kind of cohesiveness, maintain our achievements and even improve them, by continuing to create a safe and comfortable working environment," he hoped.