Harita Nickel Again Holds Obi Fishing Tournament in Kawasi Waters
20 March 2023
Harita Nickel again held Obi Fishing Tournament 2023 in Kawasi Waters, Obi Island, South Halmahera, North Maluku.

The second tournament held to promote biodiversity in Obi waters was more spectacular. For instance, while last year's inaugural tournament was only attended by Kawasi villagers, this year's tournament was also participated by residents of its neighboring village, Soligi.

A total of 193 participants from the two villages participated in the event titled "Pesona Mangael Ikang di Obi" which lasted for two days, on March 18-19, 2023.
In addition to involving more participants, the second tournament's fish catch was much heavier. The first winner was a Giant Trevally, or Bobara as the locals named it, weighing 23.51 kg. In second and third position were Geropa fish weighing 15.91 kg and 15.13 kg respectively.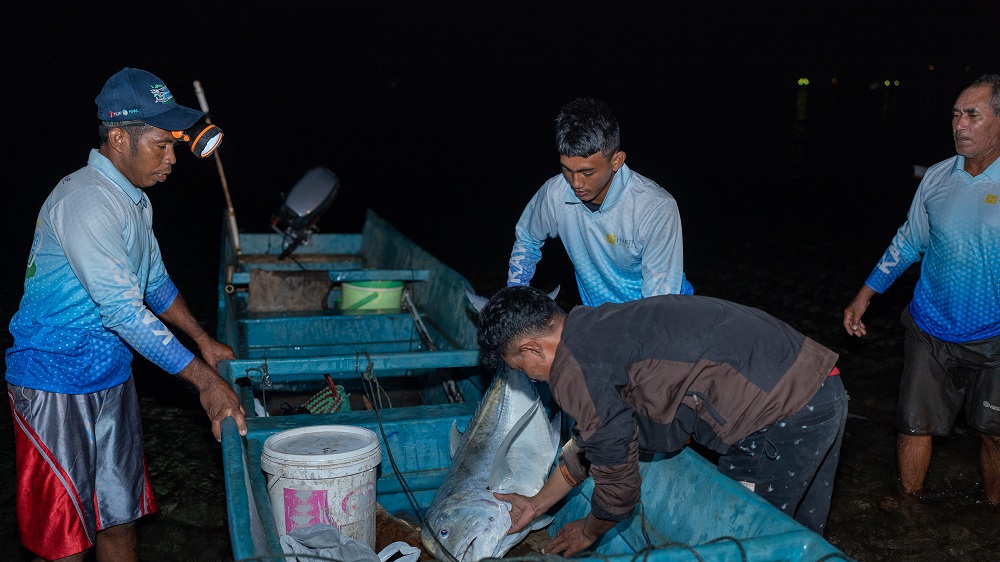 Committee Chairman of Obi Fishing Tournament 2023, Apolinavis F Mbata said the annual event organized by Harita Nickel as a means of education as well as promoting biodiversity of Obi waters located around operational site of the nickel mining and downstream company.
"With the fish catch in this year's tournament, which is more abundant, may boost up our enthusiasm and love to keep preserving the Kawasi sea," he said, during the peak of the winner announcement and prize giving ceremony which took place on the Kawasi beach, Sunday (19/2/2023).
Furthermore, it is hoped that this activity can strengthen the community togetherness in the surrounding mining village with the company, which has been harmonious so far.

The tournament was closed with the awarding of trophies and cash prizes totaling Rp 44 million for six champions. This amount does not include prizes that were also given to winners of quizzes at the venue and on social media.
Saidi Jouronga (58), a resident of Kawasi Village and winner of the first Obi Fishing Tournament 2023, recognized the abundance of fish in Kawasi waters.

Saidi admits that he is still pursuing his profession as a fisherman. He goes to sea every day from 6am and returns home in the evening. His average catch is between 20 to 30 kg. As an illustration, its price in the local village is between Rp40,000 to Rp50,000 per kilogram.
He added that when he participated in the tournament, the grandfather of 9 grandchildren went out after maghrib and at 11 pm had submitted the fish catch which was determined by the committee as the first winner. This means that he fished for only about 3 hours. And even then, he said, it was less than 2 kilometers from the shoreline.

"So if anyone says there are no fish in the Kawasi sea, or even if there are fish, they don't want to eat them because the water is dirty, that's a big lie. I was born in Kawasi, and I fish here every day until now, so I know it well," he explains.
In line with Saidi, Hut Ibrahim (60), a local resident who also works as a fisherman, admitted that he is still fishing in the waters of Kawasi. Like Saidi, Ibrahim fishes using traditional equipment such as fishing rods. His catches are mostly Bobara, Grouper, Red Snapper and squid.

"We don't go to sea if the weather is not good, such as high waves. If the weather is good, we will definitely go to sea because it is for our daily needs and children's schooling," explained the second winner of the tournament.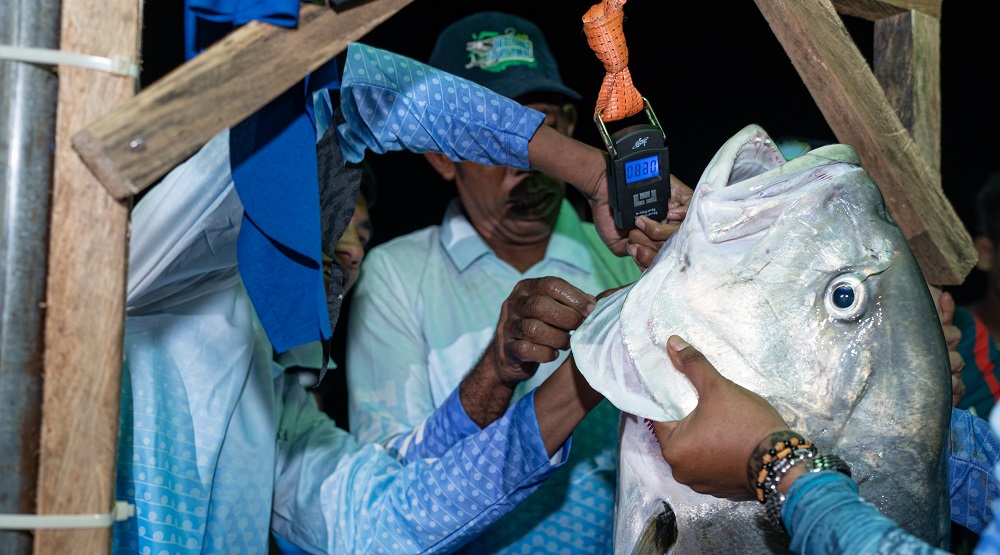 The father of 6 children said he was happy with the tournament held by Harita Nickel. Cash amounting to Rp10 million prize as champion II, according to him will be used for school fees his youngest child who is still in high school.
Many studies have revealed the biodiversity of Obi Island's waters. These waters are home to natural coral reefs that serve as a breeding ground for a variety of marine life. These waters also have high fisheries productivity, characterized by many variants of fish both basic fish (demersal) and surface fish (pelagic).

Harita Nickel has made a number of sustainable environmental management efforts to maintain productivity as well as prevent disruption of the marine ecosystem on Obi Island.
Director of Health, Safety, and Enviromental PT Trimegah Bangun Persada (PT TBP), Tonny H. Gultom said the efforts made include regulating activities at the port such as provisions for ships not to dispose of waste in the Obi water area, releasing ballast water from ships in waters far from the port, and placing anchors in designated areas.
"This program aims to ensure environmental management is carried out in accordance with regulations and works with the best performance," Tonny said.
In addition, several marine monitoring programs are carried out which include monitoring seawater quality (physical and chemical parameters), marine sediment quality, and marine biota (plankton, benthos, coral reefs and reef fish). This program implementation is supported by sea monitoring vehicles and equipped with well-tested technology.
Meanwhile, Director of External Relations of PT Trimegah Bangun Persada (PT TBP), Stevi Thomas, said the company continues to prioritize best practices in performing its operations that cover various aspects in a responsible and sustainable manner.
" We have seen from this second tournament that good quality fishes are still widely available in the Kawasi waters. This is not only for tournament needs, but also for daily consumption. Let's protect this sea together to ensure that it remains a source of livelihood for many people," said Stevi.
For information, the Obi Fishing Tournament 2023 kicked off on Saturday (18/3/2023) afternoon in Kawasi Village. The tournament itself started at 17.00 WIT and ended with weighing of the catches at around 10.00 am WIT.
In the opening and closing events, various arts and entertainment were also performed by local children presenting traditional dances. The event was made more lively by two hilarious hosts from Ternate, Tete Ko and Saya Khoko.
*Translated from TribunTernate.com